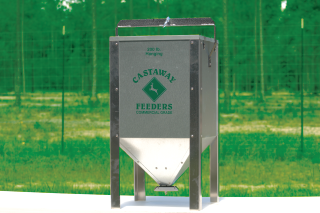 Our Hanging Feeders come in two different sizes for you to choose from.  They are commercial grade feeders and are designed to last you a lifetime!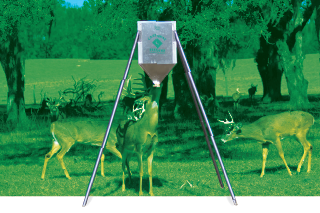 Our Free Standing Feeder comes in just one size.  Once assembled, the feeder stands at 7.5 feet tall making it easy to fill from the back of your truck!
Your rifle and optics need to perform for a split second, your feeder needs to perform all year. What's on your property?
Hunting Lease or Professional Hunting Ranch
Our feeders are the choice of professional and private hunters for a reason. You want to spend your spare time hunting, not maintaining equipment and leaving your scent in the woods. Check out what some of our customers have to say about us. Unfortunately, our best customer can't talk!
"Commercial Grade" means reliability, superior design, quality materials, and USA workmanship.
Think of the money, time and feed you will save because you no longer have to spend every other weekend running up to the hunting property to fill feeders and change batteries. Your game animals will appreciate the constant food source too. Quit fooling around with game feeders that constantly break, eat up batteries and ruin feed. A quality product that is easy to use and built to last.
Our high-quality game feeders are built to last a lifetime and are available in several different sizes and styles that are sure to meet your specific needs.